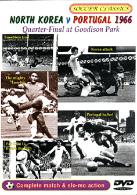 1966 Qtr - NORTH KOREA v PORTUGAL
MS.DVD.559 90 mins b./white
The tiny Koreans provided the biggest shock in the '66 finals by reaching the last 8, beating Italy 1-0. It earned them a Goodison meeting with favourites Portugal. The Asians quickly swept into a 3-goal lead, totally outplaying their opponents. They were crushed by the mighty Eusebio. His power steered Portugal to a great win as he bagged 4 goals. This was one of the most amazing games in World Cup history.
1966 Semi - ENGLAND v PORTUGAL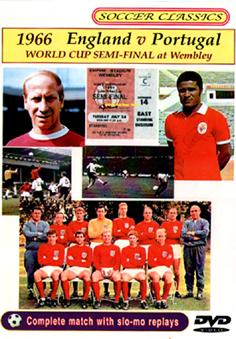 MS.DVD.683 95 mins b./white
Here's the match that propelled England to their only World Cup Final. An outstanding game from Bobby Charlton, faced by the mighty Eusebio, dictated a highly-fluent and sporting match.
ENGLAND: Banks/ Cohen/ Jack Charlton/ Moore/ Wilson/ Stiles/ Bobby Charlton/ Peters/ Ball/ Hurst/ Hunt.
1966 Group One - ENGLAND v FRANCE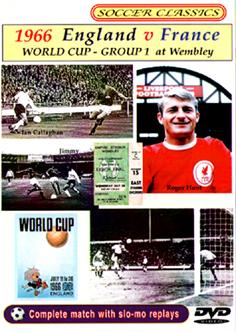 MS.DVD.685 98 mins b./white
Here's the best Group 1 match of the tournament. England played A WINGER! Callaghan! His Liverpool team mate, Roger Hunt, ran the excellent French side ragged. His two goals settled the match as the England defence held the French forwards well.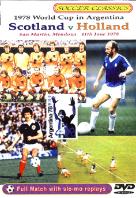 1978 Group 4 - SCOTLAND v HOLLAND
MS.DVD.634 96 mins colour
After two poor opening matches in Argentina, Scotland faced a powerful Dutch team - the '74 finalists. With Graeme Souness recalled in midfield, the Scots outplayed them with a spirited display. Jordan & Dalglish threatened throughout and Scotland gave their best ever World Cup performance. Archie Gemmill was in terrific form, scoring one of the greatest World Cup goals ever seen as they won 3-2.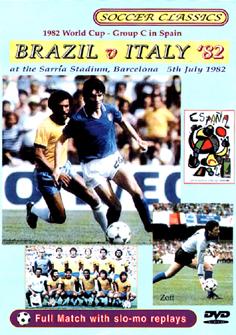 1982 Group C - BRAZIL v ITALY
MS.DVD.661 96 mins colour
Described as 'The Match of The Tournament' by Bobby Charlton, this was hailed as the classic encounter between Brazil's attacking flair and Italy's cautious defence. It turned out to be something entirely different. Dino Zoff and his defenders repelled waves of Brazilian attacks as the Italian midfield held firm. In the end, a great hat-trick from Paulo Rossi squeezed out a momentous victory against the favourites.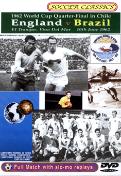 1962 Qtr-Final - ENGLAND v BRAZIL
MS.DVD.635 93 mins b./white
A spirited England side competed well with the World Cup holders, who were without their talisman, Pele. Two slices of Garrincha magic stole the victory as the fluent Brazilians proceeded to another world title.
ENGLAND: Springett/ Armfield/ Norman/ Moore/ Wilson/ Douglas/ Flowers/ Haynes/ Hitchens/ Greaves/ Charlton.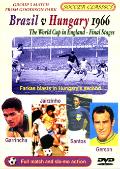 1966 Group 3 - BRAZIL v HUNGARY
MS.DVD.557 89 mins b./white
Hungary's heroes put mighty Brazil to the sword with a magical performance. The game was so good that the crowd stood & cheered the teams for more than an hour - after the game had finished!! Watch for the tremendous Hungarian defence, against football's most feared attack. See the silky ball skills of Florian Albert - and the broken shoulder of Meszoly. A simple sling and he was back on the pitch!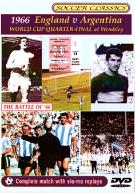 1966 Quarter - ENGLAND v ARGENTINA
MS.DVD.684 101 mins b./white
Here's 'The Battle of '66' - the game that ignited all the bad blood between the two nations. The fierce tackling and gamesmanship caused Rattin's dismissal - which took 8 minutes! With a bit more composure, Argentina could have won this game. England were very grateful to get a 1-0 win and get through in one piece.
1970 Group 3 - ENGLAND v BRAZIL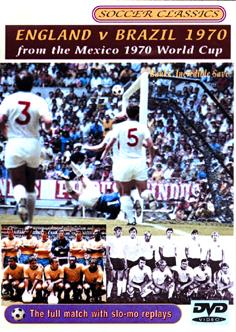 MS.DVD.584 104 mins colour
The 1966 Champions and the mighty Brazil staged a war of attrition as Ramsey's well-disciplined troops strangled the life out of the South Americans. In a game they could easily have won, England dominated much of the game, as Bobby Moore gave a masterclass in defence. The first-half save from Banks was mind-blowing, and only a flash of brilliance from Tostao, Pele & Jairzinho wrecked England's hopes of victory.
1982 Group C - BRAZIL v ARGENTINA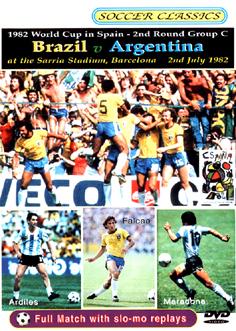 MS.DVD.658 96 mins colour
The 1978 champions, led by Ardiles and Maradona, faced the hot favourites, Brazil. The languid Socrates and his team gave a master class in attack and defence that left the commentators saying "How many yellow shirts are out there?" Maradona was expertly shackled and only Passarella and Ardiles made any impact. The speed of thought and passing from Brazil was extraordinary as Zico, Serginho and Junior all scored to frustrate the holders, causing the petulant Maradona to be sent off near the end.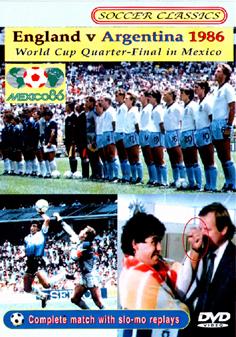 1986 Quarter - ENGLAND v ARGENTINA
MS.DVD.668 104 mins colour
20 years after taking the crown, this fine England team could have gone all the way again. With a balanced defence, a tough and creative midfield and two world-class forwards, they were stopped only by the left hand of the world's biggest cheat, Maradona, who should have been sent off. Even so, they still gave the Argentinians a real scare with Lineker scoring, then almost equalising at the end. This was perhaps the most controversial World Cup match ever.