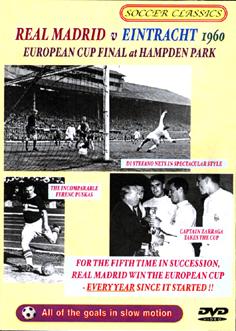 1960 – REAL MADRID v EINTRACHT FRANKFURT MS.DVD.541 94 mins b/white
For the 5th time, the mighty Real take the European Cup - every year since it started. Shankly called them the 'greatest club side ever'. The phenomenal Puskas and Di Stefano shared 7 goals in front of a world record 135,000 at Hampden Park. Hailed as 'the greatest game ever' by scores of managers and players, it is still used as a training film by International Teams.
1967 – CELTIC v INTER MILAN MS.DVD.544 90 mins b/white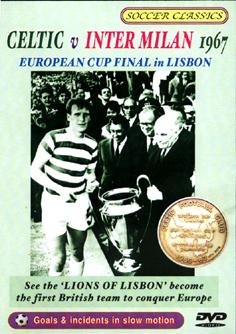 See the 'LIONS OF LISBON' become first British team to conquer Europe. Roared on by 12,000 of their travelling fans, the all-conquering Celtic heroes mounted a full-scale avalanche of attacking football for 90 minutes that not even Helenio Herrera's negative 'Catennachio' could contain. Their winning goal was their 200th goal in a 64-game season in which they won every competition that they entered. You'll never see a better Celtic side than this.
CELTIC: Simpson/ Craig/ Gemmell/ Murdoch/ McNeill/ Clark/ Johnstone/ Wallace/ Chalmers/ Auld/ Lennox.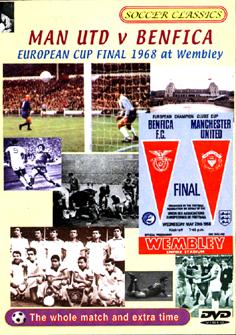 1968 – MANCHESTER UNITED v BENFICA MS.DVD.549 103 mins b/white
The whole match and extra time (dead balls removed). The 1968 final at Wembley was against a very strong Benfica side featuring Europe's leading striker, Eusebio. In a pulsating and skilful game, United's secret weapon, No.11 Johnny Aston, ran the Portuguese ragged as he enjoyed the game of his life. After the Munich disaster of ten years earlier, it was the greatest reward for the faith of the survivors - and particularly for Matt Busby.
MAN UTD: Stepney/ Brennan/ Foulkes/ Sadler/ Dunne/ Crerand/ Charlton/ Stiles/ Best/ Kidd/ Aston.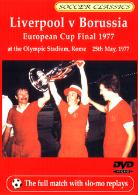 1977 – LIVERPOOL v BORUSSIA M'BACH MS.DVD.602 93 mins colour
A world-class Liverpool team took on the German Champions led by tough German skipper, Bertie Vogts. (These were the days when only the league champions competed). Although Keegan spent much of the game on the floor, Vogts was rarely penalised - watch how he smiles back at Vogts every time he is fouled. Keegan's dazzling late run into the area put the final nail in the German coffin. In his last Liverpool game, Keegan showed how to lead the line with courage, energy and skill. Paisley's all-conquering Reds put the icing on the cake that was first put in the oven by the great Bill Shankly. LIVERPOOL: Clemence/ Neal/ Jones/ Smith/ Ray Kennedy/ Hughes/ Keegan/ Case/ Heighway/ Callaghan/ McDermott.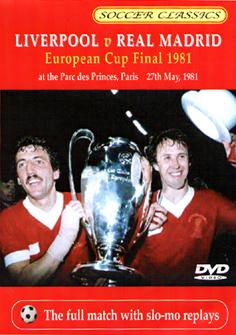 1981 – LIVERPOOL v REAL MADRID MS.DVD.676 95 mins colour
Real Madrid (6 time winners) and Liverpool (twice) staged an epic battle of attrition in France. With a lack of attacking intent from both sides, it was a dour affair with few goalscoring chances. Oh for the 10-goal thriller in 1960! In the last 10 minutes, as the Spaniards tired, little chinks of daylight started to appear in their defence. With 8 minutes left, Alan Kennedy, of all people, sprinted into the box to squeeze in a powerful shot from a tight angle. Phil Thompson lifted the trophy and the incomparable Bob Paisley became the only manager ever to win 3 European Cups. Here's the team – what would they fetch in today's transfer market?
LIVERPOOL: Ray Clemence/ Phil Neal/ Alan Kennedy/ Phil Thompson/ Ray Kennedy/ Alan Hansen/ Kenny Dalglish/ Sammy Lee/ David Johnson/ Terry McDermott/ Graeme Souness.