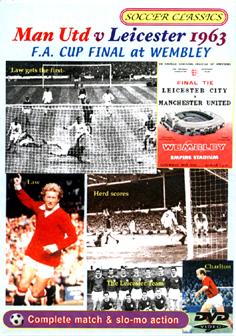 1963 - MAN UTD v LEICESTER CITY MS.DVD.558 - 92 mins - b/white
In a game he described as 'my finest for United', Denis Law was the crucial factor in this convincing victory for his team. Struggling in the league, they certainly clicked at Wembley with Quixall, Giles and Crerand pushing forward relentlessly, as their dependable backline kept a tight grip on the Leicester City attack.
MANCHESTER UNITED: Gaskell/ Dunne/ Cantwell/ Crerand/ Foulkes/ Setters/ Quixall/ Law/ Giles/ Herd/ Charlton.
LEICESTER CITY: Banks/ Sjoberg/ Norman/ McLintock/ King/ Appleton/ Cross/ Gibson/ Riley/ Kenworth/ Stringfellow.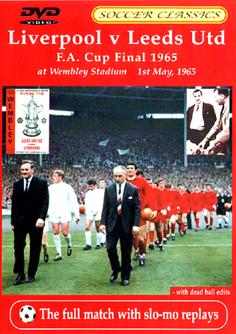 1965 LIVERPOOL v LEEDS UTD MS.DVD.669 - 116 mins - b/white
After a huge disappointment against Arsenal in 1950, this match was a long time coming. It was a missing trophy Bill Shankly badly wanted to win. With his central spine of Lawrence, Yeats and St. John, the team had been conquering everything in their path. The strong and physical Leeds side, led by master tactician Don Revie, were very formidable foes.
In extra time, Liverpool edged it thanks to a great St John header. The talking point for years was the secret of Gerry Byrne's fractured collar bone - he played with it for almost 2 hours!
LIVERPOOL: Lawrence/ Lawler/ Byrne/ Strong/ Yeats/ Stevenson/ Callaghan/ Hunt/ St John/ Smith/ Peter Thompson.
LEEDS UNITED: Sprake/ Reaney/ Bell/ Bremner/ Charlton/ Hunter/ Giles/ Storrie/ Peacock/ Collins/ Johanneson.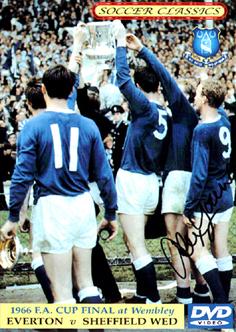 1966 - EVERTON v SHEFF WED MS.DVD.670 - 103 mins - b/white
This is one of the finest cup finals you will ever see. The Sheffield side, with a cultured and classy midfield, pushed Everton all the way. After going down 1-0 at the break, a flurry of goals saw Everton recover to take a shock 3-2 victory.
EVERTON: West/ Wright/ Wilson/ Gabriel/ Labone/ Harris/ Scott/ Trebilcock/ Alex Young/ Harvey/ Temple.
SHEFFIELD WEDNESDAY: Springett/ Smith/ Megson/ Eustace/ Ellis/ Gerry Young/ Pugh/ Fantham/ McCalliog/ Ford/ Quinn.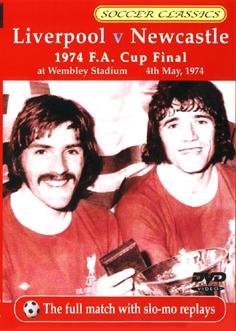 1974 - LIVERPOOL v NEWCASTLE MS.DVD.669 - 116 mins - b/white
At the height of Shanklymania, the Reds went to Wembley for the second time to take on a good Newcastle side, led by the prolific Malcolm Macdonald. The immaculate Phil Thompson (who exchanged his legs with a sparrow) played Supermac off the park.
With the dynamic combination of the irrepressible Kevin Keegan and the speedy Steve Heighway, they cruised to an easy victory as the fans sang tributes to their beloved Scottish manager. Thompson said 'I put Supermac on the mantlepiece for the kids to play with'.
LIVERPOOL: Clemence/ Smith/ Lindsay/ Phil Thompson/ Cormack/ Hughes/ Keegan/ Hall/ Heighway/ Toshack/ Callaghan.
NEWCASTLE: McFaul/ Clark/ Kennedy/ McDermott/ Howard/ Moncur/ Smith/ Cassidy/ Macdonald/ Tudor/ Hibbitt.