1953 - ENGLAND v HUNGARY MS.DVD.535 - 91 mins -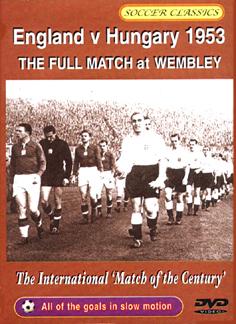 b/white
'The Match of The Century' was staged on a cold November evening - but for England, the 'Mighty Magyars' were just too hot to handle. This was the game, and the side, that destroyed the World's No. 1 team with revolutionary tactics. A 4-4-2 formation and a deep-lying centre forward upset all English plans. Spearheaded by the man we consider the greatest footballer ever - captain Ferenc Puskas - they simply tore England to shreds. Even though the footage is bit blurred, because of fog and the old film cameras, this became the most talked-about game in all football history.
Just marvel at the skills of Puskas, Hidekguti, and Bozsik - and watch out for the first 'drag-back' ever seen as Puskas dumps Billy Wright on his backside and scores the most unlikely of goals. Goalkeeper Gil Merrick counted 57 shots on goal (not including an 'offside' goal that was clearly 5 yards onside). Narrated by Kenneth Wolstenholme.
Leased exclusively to Mastersound by the late Ferenc Puskas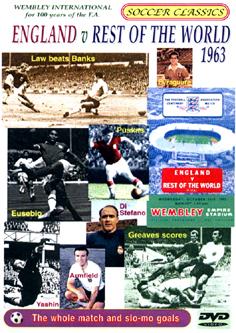 1963 - ENGLAND v REST of the WORLD MS.DVD.552 - 86 mins - b/white
This is the only surviving copy of the International Match, staged by the FA, to celebrate 100 years of Association Football. England's fine team (3 years from taking the World Cup) faced a dazzling array of the World's greatest players - (Puskas was a sub!).
The World side featured Eusebio, Lev Yashin in goal (who was tremendous), scotsman Denis Law, Brazilian Santos, Kopa, Gento and captain Alfredo Di Stefano - the man we'd nominate for the World No. 2. Puskas supplied Law with a sublime pass for their goal. England replied with a goal each from Terry Paine and Jimmy Greaves. Narrated by Kenneth Wolstenholme.
ENGLAND: Gordon BANKS/ Jimmy ARMFIELD/ Maurice NORMAN/ Bobby MOORE/ Ray WILSON/ Gordon MILNE/ Bobby CHARLTON/ George EASTHAM/ Terry PAINE/ Jimmy GREAVES/ Bobby SMITH.
WORLD: Lev YASHIN/ Djalma SANTOS/ Karl-Heinz SCHNELLINGER/ Svatopluk PLUSKAL/ Jan POPHULAR/ Josef MASOPUST/ Raymond KOPA/ Francisco GENTO/ Alfredo Di STEFANO/ Denis LAW/ EUSEBIO da Silva Ferreira.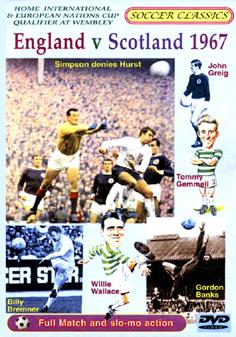 1967 - ENGLAND v SCOTLAND MS.DVD.553 - 97 mins - b/white
This is the most popular film north of the border. Why? Jack Charlton was badly injured early on in the game and there were no subs allowed. With such a huge presence missing, Scotland took their chance and squeaked a narrow 3-2 victory. Their 40,000 travelling fans didn't care. They'd defeated their bitter enemies - and to be fair they played well. A bit of showboating from the outstanding Jim Baxter was duly entered into Scottish folklore.
ENGLAND: Gordon BANKS/ George COHEN/ Jack CHARLTON/ Bobby MOORE/ Ray WILSON/ Nobby STILES/ Bobby CHARLTON/ Martin PETERS/ Alan BALL/ Jimmy GREAVES/ Geoff HURST.
SCOTLAND: Ronnie SIMPSON/ Tommy GEMMELL/ John GREIG/ Ron McKINNON/ Eddie McCREADIE/ Billy BREMNER/ Jim McCALLIOG/ Jim BAXTER/ Willie WALLACE/ Denis LAW/ Bobby LENNOX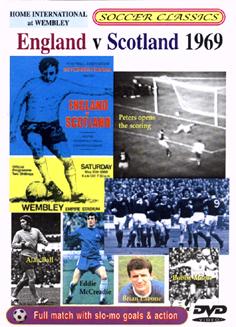 1969 - ENGLAND v SCOTLAND MS.DVD.563 - 98 mins - b/white
With 11 fit men, England gave the Scots a footballing lesson. The upset of '67 was overturned to a 4-1 hammering as Peters and Hurst grabbed two each. Mind you, putting a vet in goal was not clever. Alan Ball oozed class as he dominated the park and with only Bremner and McCreadie showing the famous Scottish mettle, they were overpowered by a slick England.
ENGLAND: Gordon BANKS/ Keith NEWTON/ Terry COOPER/ Alan MULLERY/ Brian LABONE/ Bobby MOORE/ Francis LEE/ Alan BALL/ Bobby CHARLTON/ Geoff HURST/ Martin PETERS.
SCOTLAND: James HERRIOT/ Eddie McCREADIE/ Tommy GEMMELL/ Bobby MURDOCH/ Billy McNEILL/ John GREIG/ Willie HENDERSON/ Billy BREMNER/ Colin STEIN/ Alan GILZEAN/ Eddie GRAY.